Description
 Skull Canyon: Ski Fest – a set collection and slope-hitting game by designer duo Jason Klinke and Kip Noschese!
Skull Canyon Ski Resort is finally celebrating their grand re-opening with a huge festival, after being closed for many snowy seasons in a row. Hopefully by now skiers have forgotten the rumors of yeti sightings on the mountains…
Hit the slopes and brave the terrain, competing against other skiers for points and fame. Play sets of cards to complete a run, but remember do it with style to wow the onlookers! Take the lift to reach different parts of the mountain and claim the most difficult runs!
Once the sun sets, Après-Ski begins and tired skiers can spend their evenings at different hangouts, recouping and planning for the next busy day of skiing. Out-ski your opponents to become the new legend of Skull Canyon!
Skull Canyon Ski Fest info:
2-4 players
45-60 min
Ages 14+
Designers: Jason Klinke and Kip Noschese
Illustrator: Gica Tam (Gods Love Dinosaurs, Wayfinders)
Mechanics: Set collection, Worker placement, Track movement
Release date: April 13, 2022 / Pre-orders open: NOW
Highlights:
Approachable mechanics, interesting decisions, and a fun theme appeal to many types of players!
Play sets of cards (à la Ticket to Ride) to ski down a slope – the harder the run, the more cards you'll need in your set!
Players jockey for control of the slopes and will be awarded points for the number of easy, advanced, and experts runs they control at the end of the game!
At the end of each day, take turns visiting cabins (à la Tokaido) with powerful actions to set yourself up for the next day.
Diverse set of characters, from race to gender to equipment!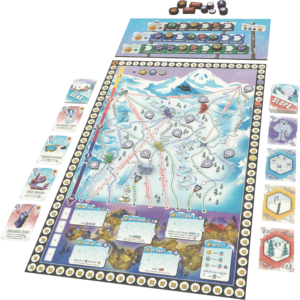 Prove you're the ultimate skier by skiing the most difficult runs, collecting the best gear, and earning the highest score in Skull Canyon Ski Fest!To get your ski on, you need to collect and turn in matching sets of slope cards. Each set you turn in lets you ski a run on the mountain, earning victory points, fame, and a spot on the run scoreboard that tracks who performed best on each run.
The higher a run's difficulty rating, the more cards you'll need to collect to complete it.  Ski the longer more difficult runs and you'll also score more points and earn more fame!
At the end of each day of skiing, you'll take a break at the Ski Village.  During  Après ski times you can take bonus actions and acquire gear to prepare for the next day of skiing. At the end of the 3rd day, whoever has the most victory points wins!