Students and parents – Gnome Games believes that having a great education is critical to the success of all of the communities we serve and to show our support we have created the Gnome Games Great Grades Program. The Great Grades Program is specifically designed to incentivize and reward students for great grades and academic achievements. Students study, learn and get great grades and Gnome Games rewards you with great discounts on great games. It's almost like we pay you to be a great student!
GREAT GRADES EARN REWARDS AT GNOME GAMES!
Gnome Games supports academic achievement at all levels through the Gnome Games Great Grades Program. Twice a year full-time students can bring in their semester (or trimester) report cards with B's or better grades and earn up to 40% off their purchase of a new game to play! It's really as simple as bringing in your report card and going shopping!
Students should bring in your report card, we'll help figure out your semester GPA, make sure all of your grades are B's or better and you'll get your GPA x 10% off your purchase of new games to play as a reward for your hard work.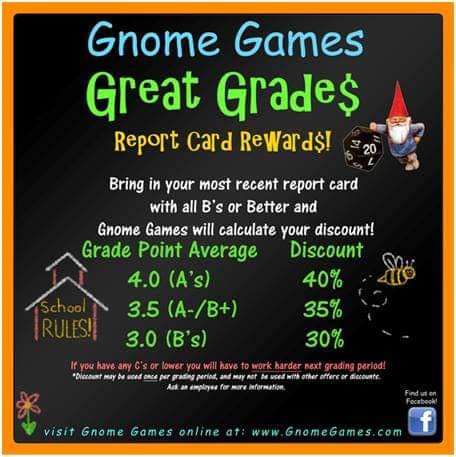 HERE ARE THE GNOME GAMES GREAT GRADES RULES
Students must be enrolled 3/4 time or more for the entire semester. Report cards must show that the student completed all classes on the report card. While single classes are great to take and improve yourself, getting an A in Bartending 101 doesn't really deserve the same reward a 15 credit semester does.
Students may use this discount 1 time per semester report card up to a maximum of 2 times a year at a Gnome Games store. We understand that some schools have trimesters or summer sessions, but to make it as fair as possible to all students we do limit it to 2 semester report card redemption purchases annually. You can only use each semester report card one time, and we know you are smart with all those great grades, but make sure you get everything you want on that purchase!
Grades must be B's or better. The Gnome Games Great Grades program rewards academic achievement, so B-, C, D and F mean that you must work harder next semester. For elementary grades with narrative or numeric grading scales, the Gnome Games staff will extrapolate your GPA from the report card. The Gnome Games Great Grades program is designed to reward younger students in a way that encourages them to work toward getting all A's and B's in all classes once they enter middle and high school.
Games purchased must be new games and student age appropriate. The Great Grades program rewards the student for achievement, and is not designed to be a coupon for parents to use, or shopping for others for the holidays. These are your reward, and we do reserve the right to question purchases for the Great Grades program, so dad – teach your kindergartener how to play 40K and we'll talk about it.
Students receive 10% x their semester GPA as a discount for a single purchase of new, non collectible product

GPA* 10% = Discount

4.0 = 40% off
3.5 = 35% off
3.0 = 30% off
GREAT GRADES PROGRAM FREQUENTLY ASKED QUESTIONS
Can a Home School Student use the Great Grades Program? Yes! We do ask to see a report card from testing or other academic evaluation for the semester. A note from mom isn't a report card.
Do I have to bring in a paper copy of the report card? No. We will accept digital report cards if you can log in to your academic account on your handheld device. Gnome Games staff must see your academic report card for the semester on the school site, not an email.
My overall GPA isn't that great, can I still get the Great Grades Program discount? Maybe. We only look at the last complete semester grades for the Great Grades discount, and want to encourage improvement. If last semester wasn't great you can always work harder next semester
Can I get the Great Grades Program if I have an incomplete? No, the Great Grades Program is for complete semesters only. Bring your grades in after all classes are complete in and get rewarded for all of your hard work.
Can my mom, dad, grandma, grandpa, sister, brother or neighbor use my great grades? NO! These are your grades.
WHEN AND WHAT CAN I USE THE GREAT GRADES DISCOUNT ON?
Can I use my Great Grades Discount with a coupon or during one of the Gnome Games sales? No, the Great Grades Program may not be combined with any other deals or discounts.
I have to go home before my grades come out, and won't be back in Green Bay until the fall. Can I still use the Great Grades Discount? Yes! The 30 day Great Grades Program window of opportunity is extended to college students during the month of September to allow you to be rewarded for your hard work last spring and to get you a great game to share with your new roommates. We also allow similar flexibility on a case by case basis in January or February. Just ask on of our managers when you come in.
Can I buy Magic or Pokemon single cards with my Great Grades discount? No, the Great Grades Program is only for new, non-collectible games and products. Cards, Tournament Entry fees and certain other items are not part of the program.
Can I special order something and use my Great Grades discount on it? Yes! We highly encourage parents to set up a layaway or special order to have the game their student really wants waiting as a reward at the end of the semester. Talk to any Gnome Games staff about how we can help you encourage your student with a Great Grades Layaway today!